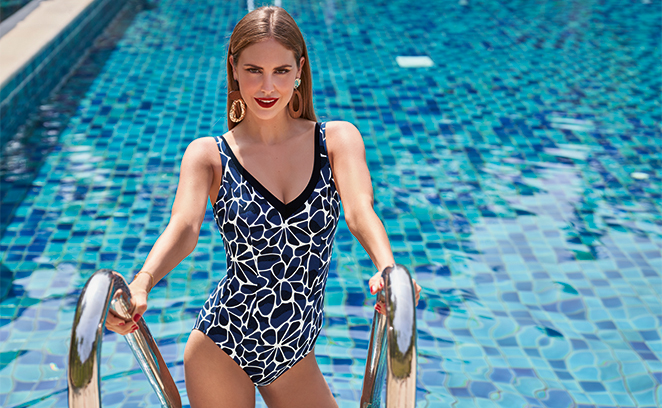 One Piece Swimsuits
Anita and Rosa Faia one-piece beachwear
Discover the latest Anita & Rosa Faia swimsuits in sizes 36-52. Our swimsuits offer a shaping effect to make you look slimmer, lots of pretty details and trendy patterns for you confident appearance on the beach.
Read more
How does a swimsuit shape your figure?
Shaping the body with the help of fabrics and cuts: Anita comfort swimwear uses special, functional lining material and fabric textures to help sculpt that perfect beach body. Special cuts reinforce the figure-shaping effect.
Colour inserts create a slim look: In order to cut a great figure, you don't have to wear the classic in gloomy black and go without trendy colours. Exciting patterns, vertical stripes or black sections sewn in on the sides lengthen the silhouette and quickly create a slim waist.    
Little highlights: Gathered sections, knots, decorative rings and patches conceal and guide the eyes to your individual assets. Does your swimsuit absorb too much sun? A tankini is a great alternative if you don't really want to show your tummy all the time, but want to tan as much of your body as possible when sunbathing. This two-piece drapes loosely around your tummy and hips, meaning it's comfortable and hides a little extra padding around the waist.