Compression bras, bandages & Lymph O Fit™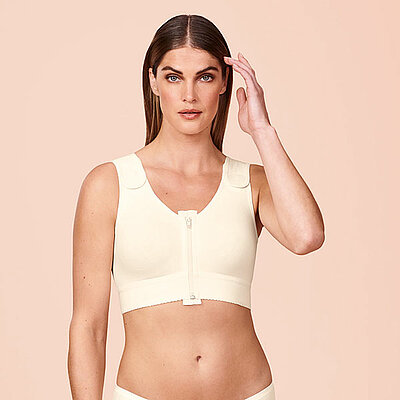 Medical care after (breast) surgery and lymph support
Well cared for – right after your surgery. Anita care offers high-quality compression bras/ bandages after breast surgery, as well as medical care for lymphatic diseases with the Lymph O Fit™ raised dot material.
Which compression bra or Lymph O Fit™ product would be most suitable for you depends on your individual requirements. You will find the right selection and competent advice from your health care supplier. The proper term for a compression bra is a compression bandage.
---
Compression bras/ bandages and shapewear for post breast surgery care
---
Lymphatic relief garments for the chest, arms and legs to activate lymph drainage
Compression Bras, Bandages & Shapewear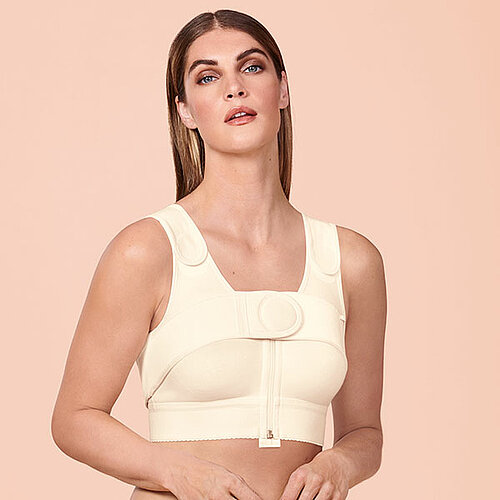 What is a compression bra?
A compression bra promotes wound healing after breast surgery and is designed specifically for shaping the tissue correctly and symmetrically. The length of time for wearing the compression bra is decided by the attending physician. For breasts to be positioned correctly after reconstructive surgery with own tissue or implants, a compression bra must exert some pressure, but must not fit too tightly, as it would impact on the scars and cause pain.
 
What are the benefits of a compression bra?
Implant stabilisation
This specialist bra uses pressure to prevent implants from slipping out of place after breast surgery or a breast augmentation to ensure that the desired results are achieved. It is therefore important to wear a compression bra, as one breast could otherwise be lower than the other or be deformed. The Stuttgart girdle ensures that the implants are fixed in their intended position.
Healing support
The affected tissue will safely grow back together under the gentle pressure of the compression bra, while nerve fibres under a lot less stress and scar formation is minimised. Since the bra or bandage offers great support and helps shape the breasts correctly, the risk of inflammation and stretch damage is reduced.
Perfectly shaped breast
Compression helps the breast tissue to reshape and the desired contours remain intact
How about not wearing a compression bra at all?
For women, who wear a bra without compression (e.g. a sports bra instead), the healing process after breast surgery can take a lot longer. The breasts can become asymmetrical, because the implants shift. A sports bra cannot be held in place by a Stuttgart girdle.
For lymphatic diseases
For lymphatic treatments, Anita has developed a specialist material with a 3D/raised dot texture on the inside. This texture has a massaging and draining effect on the subcutis and smaller lymphatic vessels. This activates and improves lymphatic drainage. It additionally promotes scar regression. Good moisture wicking and breathability ensure comfort and pleasant conditions for the skin. This material is used for the reduction of light lympoedema, haematoma and fibrosis.
After plastic surgery
A more rigid material was developed for use after plastic surgery, which also features the raised dots on the interior. This texture is slightly less pronounced, but has a similar massage effect on the skin. It promotes lymphatic drainage and the healing process. The fabric is a lot stiffer, has less stretch and therefore offers a higher compression rate. The material is suitable for use after plastic surgery like liposuction and lifts.
We offer lymphatic relief products for:
Note: All Lymph O Fit™ products can only be used after the wound has healed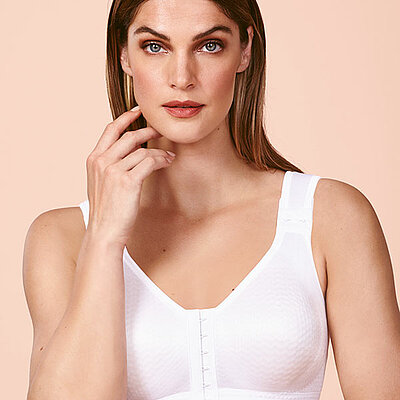 Lymph O Fit™ – Chest
Lymphatic relief bandage after breast surgery
What is a lymphatic relief bandage for the chest area?
Lymphatic relief bandages are specially designed compression girdles for lymphatic diseases.
Lymphoedema can appear as a result of breast cancer surgery (BET, radiation oedema, mastectomy). In cases of lymphoedema, the flow of lymph through the lymphatic system has been disrupted and results in swelling.
 
What are the benefits of a lymphatic relief bandage?
Prevention of haematoma formation
Reduced seroma production
Reduced formation of scar tissue
Improved healing process of the tissue
Promotion of surgical results
Lymphoedema prevention or treatment
What are the benefits of wearing a lymphatic relief bandage?
The dot structure of the lymphatic relief bandage achieves a gentle massage and drainage effect of the dermis and smaller lymph vessels.
An untreated lymphoedema will not disappear. Instead, the symptoms will only worsen. This will result in a need for permanent therapy and lymphatic relief. The Lymph O Fit™ products by Anita care support a rapid regression of post-operative oedema and a better manageability of chronic lymphatic drainage problems.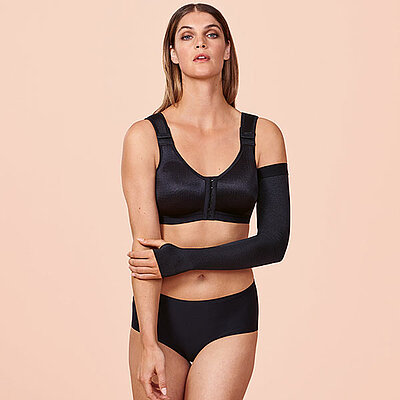 Lymph O Fit™ – Arms
Lymphatic relief gloves and arm sleeves
What are lymphatic relief gloves and arm sleeves?
Lymphatic relief gloves and arm sleeves by Anita care are made of a special Lymph O Fit™ material with a raised dot texture. This texture has a gentle massaging and draining effect on the subcutis and its smaller lymphatic vessels. 
Swelling is very common after surgical procedures in the chest and arm area due to irritation of the lymphatic pathways, which inhibits lymphatic drainage. 
Application of lymphatic relief gloves and arm sleeves
After arm lifts with skin reduction
After arm lifts with liposuction
For mild lymphoedema
For mild lymphoedema in the hands
Types of lymphatic relief arm sleeves
The glove reaches halfway up the lower arm and is used for lymphoedema in the hand. Lymphatic relief arm sleeves by Anita care are available as a model that reaches up to the armpit for one arm or is cut over the shoulders for both arms (bolero style). These are commonly used after breast surgery, liposuction or lifts.
Andrea H.
"The Lymph O Fit™ bra is an important tool for the treatment of chest/thoracic oedema. Since 2016, I have been consistently using the Lymph O Fit™ bra with my patients, alongside lymphatic drainage therapy, exercises, and self-management. This is always done in consultation with the patient and her personal needs.  As a therapist, I see visible and tangible success in about 90% of my patients – as they will confirm. The oedema recedes and the affected tissue becomes noticeably softer. Overall, the Lymph O Fit™ bra meets all the necessary requirements. Wide, adjustable, non-restrictive straps, high underarms, front closure and lymph stimulating material. My dream team: Manual Lymphatic Drainage and the Lymph O Fit™ Bra."
Andrea Hoerig Physiotherapist, Lymphatic Drainage Therapist Expertise/ Supervisor, www.andreahoerig.ch, Lucerne
Manuela H.
"These trousers are very comfortable to wear. They are particularly helpful during sporting activities, but also for everyday wear, the Lymph O Fit™ proves itself time and again, making the legs feel relieved under any strain. Lymph O Fit™ is a great product. They should be in every wardrobe!"
Manuela H., customer, Freihung, Germany
Andrea L.
"In the last few days I've been having such problems with my legs that I even skipped carnival. Then last night I had the idea of wearing "your trousers" at night and... I felt better. I often wear them in the evening, after showering and when I exercise, and I'm so grateful that I discovered these."
Andrea L., customer and spokesperson of the Lip-Lymph Oberberg SHG, Gummersbach, Germany
Angelika H.
"I am a huge fan of the Lymph O Fit™. I own them in every colour and they are essential for sports (inline skating half marathon), fitness (yoga and pilates) and everyday/leisure wear (as warming and massaging "pants" or as leggings). Since I started wearing them, I no longer have heavy or twitching feelings in my legs, and the muscle soreness is minimal, even when I've completed a 22K untrained."
Angelika H., customer, Duisburg, Germany
Jessica B.
"I myself have suffered from lymphatic lipoedema for several years and, in addition to my flat knit trousers, I wear the Lymph O Fit™ trousers in two different versions, sports trousers leggings and also item 2114.
As my style is rather sporty casual, the Lymph O Fit™ trousers fit very well into my everyday clothing selection, they are very comfortable to wear, and also look great. People often comment on the look of these "leggings", even men.
For me, the Lymph O Fit™ trousers are a super alternative to the flat knit kind, since they are much easier to put on. So I sometimes don't like wearing the flat knit trousers so much, because sometimes I do like to get a bit comfortable and they don't fit quite as well over the course of the day as they did at the beginning.
When I wear the Lymph O Fit™ trousers, I feel very comfortable and also feel that they provide good support, due to the compression and their massage function (integrated dimples on the inside). I can wear them all day without feeling constricted or restricted. They also feel great during exercise and don't slip out of place.
I would also say that they visually slim the legs a bit, which is of course every woman's dream.
Even during my time as a hotel manager, I liked to wear these trousers during my working hours because this prevented fluid retention in the legs due to long periods of standing or walking, and the same applies to travelling by car, train or plane. But they are also fantastic throughout the day in the office.
All in all, I can say that these trousers are really amazing and I wouldn't be without them. I think it's great that, despite the fact that they are still an "aid", they don't look like one at all. Even if they do leave "traces" on the skin, I'm happy to put up with that, because it doesn't last too long. (If I then want to wear something with bare legs, I simply take this into account beforehand and the problem is solved)."
Jessica B., customer, Goettingen, Germany
Bianka P.
"To me, the skin feels softer when I have had these trousers on during the day. I wear them in winter and summer. They regulate the temperature wonderfully. In summer I like to wear the cycling shorts under trousers and skirts, but I don't feel like I have an extra pair of trousers on. There is also no "heat build up".
Due to arthritis in my sacrum, I sometimes have back pain after long days. When I wear the Lymph-o-fit, I feel like I have light support there and I have less back pain in the evening, or even none at all.
Since I got them, I've also been wearing them on long flights instead of support tights. They are much more comfortable and they seem to have a comparable effect. I used to go straight to the toilet at my destination airport to take off my tights. With the Lymph-o-fit, I no longer have to do that. I have had no problems with my veins so far and hope that wearing the Lymph-o-fit will keep it that way." 
Bianka P., customer, Bad Honnef, Germany
Interesting facts about surgical care and aftercare
Post-surgery lymphoedema
Injuries to the lymphatic system can lead to lasting damage and, as a consequence, to lymphoedema. "Lymph O Fit™" by Anita is a treatment option for various indications.
Study on the post-surgery compression bandage "Valencia"
Findings of the medical study CIR-ORT 2014: The bandage for controlled compression by Anita care offers a viable alternative for the traditional compression binding in terms of safety, efficacy and comfort.