Pregnancy & breastfeeding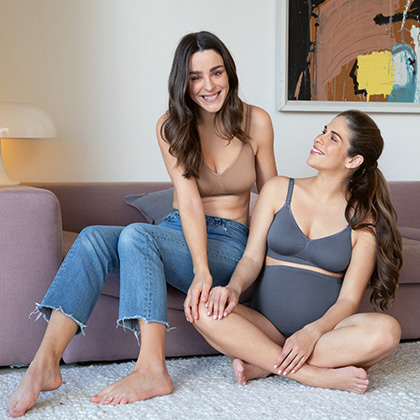 Pregnancy & breastfeeding
Nursing and maternity fashion by Anita maternity
is there with you at every stage - during pregnancy, breastfeeding and recovery.
High quality and comfortable maternity bras and Baby Belts give your breasts and belly plenty of room to grow. Practical nursing bras in modern designs and styles make breastfeeding uncomplicated and comfortable. Our popular ReBelt Panty effectively promotes the recovery of the belly and hips after birth.
Read more
A new life is growing...
... a little more every day, for nine months. Gradually, your stomach and breasts begin to grow larger.
Phase 1 - Pregnancy
At the latest when nothing else really fits (3rd - 4th month of pregnancy), then it's time to start thinking about finding the right maternity underwear.
The ideal underwear offers excellent comfort and makes you feel good in every way. The underwear should grow with your body during pregnancy and provide the necessary support.
Phase 2 - Breastfeeding
After birth, your breasts grow in size again. At the earliest, you should start thinking about purchasing a nursing bra during the 8th month of pregnancy.  
After the birth, your breasts are heavier than usual. That's why they need more support to stay in shape. A nursing bra should be easy to open and close with one hand, and your breast should be well supported while the cup is open.      
Phase 3 - Recovery
Do you want to lose that baby weight as quickly as possible after pregnancy? In addition to regular recovery exercises, one of the simplest options is:  Shapewear!
This will hide the baby weight and support the recovery of your stomach. Shapewear for new mothers gently and holistically shapes and smooths your curves.