DYNAMIX STAR - Sports Bra Racerback, Maximum Support
Our Racerback DYNAMIXSTAR sports bra has a unique design feature strap system that makes dressing and undressing simple. The straps are effectively positionedat the center of the shoulder for maximum comfort.
Highly functional Sports bra * Exclusive design of highly functional material for ''Anita sweat management'' Cups * Pre-formed, double-layered cups * Combination of pique fabric outside and terry cloth fabric inside the cup Comfort straps * Neck relieving positioning * Exclusively designed by Anita: Ergonomically shaped, adjustable straps with integrated padding Back: * Easy on and off design * Additional support through double back concept Sports: Running, Riding, Tennis
Outer fabric
45% Polyester
35% Nylon
10% Elastane
10% Polyurethan
Delicate wash 40°
Do not bleach
Do not tumble dry
Do not iron
No dry cleaning
Microfibre

Microfibre – The ultimate comfort fabric Light and silky soft Breathable for optimum skin milieu Easy to care for (fast-drying, non-iron)
Anita Sweat Management

Anita Sweat Management The interaction of two breathable hi-tech fabrics permits optimum, active "Sweat Management"
Less Movement

Less movement An optimum sports bra can significantly reduce the upward and downward movement of the sensitive breast tissue
How to find the perfect size step by step:
When it comes to bras, base your measurements on a well-fitting bra, preferably one without underwires
The measured size serves as a guideline. The actual size for the best comfort of each customer can only be determined by trying the item on!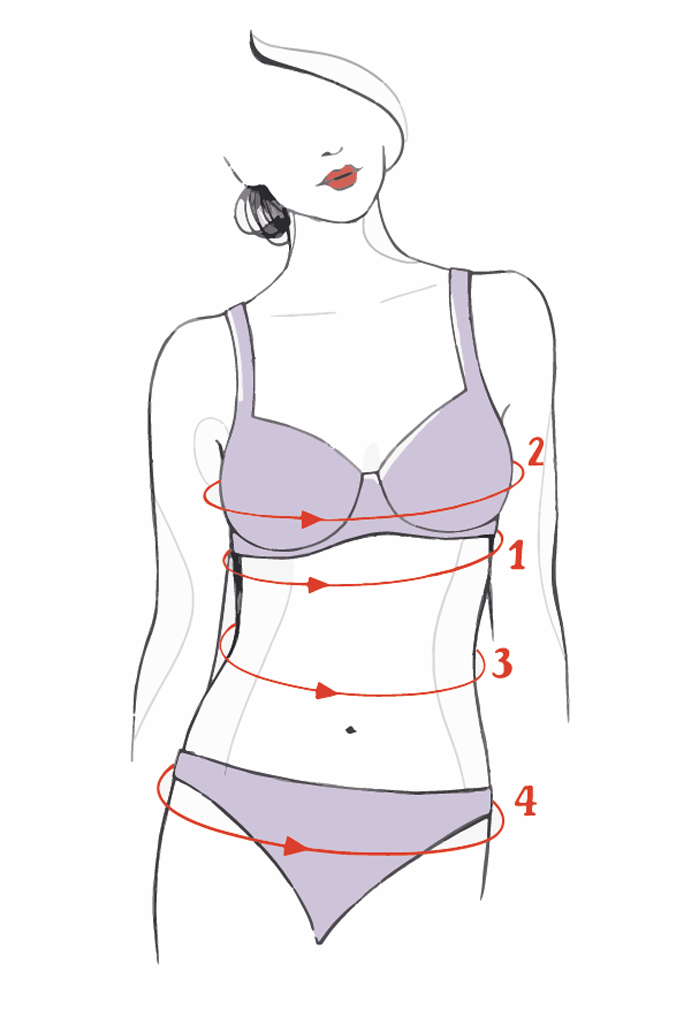 Underbust measurement
Take the measurement (1) by holding the tape directly under the bust. This measurement determines the bra size.
Bust measurement
Take the bust measurement (2) by holding the tape horizontally over the widest point of the breast.
Use the chart to find out the cup size
Pants size
To work out the pants size, measure the waist (3) by holding the tape horizontally around the smallest part of the waist. Measure the hips (4) by holding the tape horizontally around the widest part of the hips.
If there is a considerable difference between the waist and hip measurement, always take the larger size.
Briefs
Dress size GB
26
28
30
32
34
36
38
40
42
44
46
48
50
52
54
Dress size US
2
4
6
8
10
12
14
16
18
20
22
24
26
28
30
Dress size int.
XS
XS
S
S
M
M
L
L
XL
XL
XXL
XXL
XXXL
XXXL
XXXXL
Panty girdle size
26
28
30
32
34
36
38
40
42
44
46
48
50
52
54
Waist measurement inch (3)
20,4-22,4
22,4-24,4
24,4-26,4
26,4-28,3
28,3-30,3
30,3-32,3
32,3-34,3
34,3-36,2
36,2-38,2
38,2-40,2
40,2-42,1
42,1-44,1
44,1-46,1
46,1-48.0
48,0-50,0
Hip measurement inch (4)
31,8-33,4
33,4-35,0
35,0-36,6
36,6-38,2
38,2-39,8
39,8-41,3
41,3-42,9
42,9-44,5
44,5-46,1
46,1-47,6
47,6-49,2
49,2-50,8
50,8-52,4
52,4-53,9
53,9-55,5
Bras
Underbust measurement inch (1)
22,6-24,6
24,6-26,6
26,6-28,5
28,5-30,5
30,5-32,5
32,5-34,4
34,4-36,4
36,4-38,4
38,4-40,4
40,4-42,3
42,3-44,3
44,3-46,3
46,3-48,2
48,2-50,2
50,2-52,2
Underbust size
28
30
32
34
36
38
40
42
44
46
48
50
52
54
56
Bust measurement inch (2)
AA
27,5-28,3
29,5-30,3
31,5-32,2
33,4-34,2
35,4-36,2
37,4-38,1
39,3-40,1
41,3-42,1
43,3-44,0
45,2-46,0
47,2-48,0
49,2-50,0
51,2-51,9
53,1-53,9
55,1-55,9
A
28,3-29,1
30,3-31,0
32,2-33,0
34,2-35,0
36,2-37,0
38,1-38,9
40,1-40,9
42,1-42,9
44,0-44,8
46,0-46,8
48,0-48,8
50,0-50,8
51,9-52,7
53,9-54,7
55,9-56,7
B
29,1-29,9
31,1-31,8
33,0-33,8
35,0-35,8
37,0-37,8
38,9-39,7
40,9-41,7
42,9-43,7
44,8-45,6
46,8-47,6
48,8-49,6
50,8-51,6
52,7-53,5
54,7-55,5
56,7-57,5
C
29,9-30,7
31,8-32,6
33,8-34,6
35,8-36,6
37,8-38,5
39,7-40,5
41,7-42,5
43,7-44,4
45,6-46,4
47,6-48,4
49,6-50,4
51,6-52,3
53,5-54,3
55,5-56,3
57,5-58,2
D
30,7-31,5
32,6-33,4
34,6-35,4
36,6-37,4
38,5-39,3
40,5-41,3
42,5-43,3
44,4-45,2
46,4-47,2
48,4-49,2
50,4-51,2
52,3-53,1
54,3-55,1
56,3-57,1
58,2-59,0
E
31,5-32,2
33,4-34,2
35,4-36,2
37,4-38,1
39,3-40,1
41,3-42,1
43,3-44,0
45,2-46,0
47,2-48,0
49,2-50,0
51,2-51,9
53,1-53,9
55,1-55,9
57.1-57,9
59,0-59,8
F
32,2-33,0
34,2-35,0
36,2-37,0
38,1-38,9
40,1-40,9
42,1-42,9
44,0-44,8
46,0-46,8
48,0-48,8
50,0-50,7
51,9-52,7
53,9-54,7
55,9-56,7
57,9-58,6
59,8-60,6
G
33,0-33,8
35,0-35,8
37,0-37,8
38,9-39,7
40,9-41,7
42,9-43,7
44,8-45,6
46,8-47,6
48,8-49,6
50,7-51,5
52,7-53,5
54,7-55,5
56,7-57,5
58,6-59,4
60,6-61,4
H
33,8-34,6
35,8-36,6
37,8-38,5
39,7-40,5
41,7-42,5
43,7-44,4
45,6-46,4
47,6-48,4
49,6-50,3
51,5-52,3
53,5-54,3
55,5-56,3
57,5-58,2
59,4-60,2
61,4-62,2
I
34,6-35,4
36,6-37,4
38,5-39,3
40,5-41,3
42,5-43,3
44,4-45,2
46,4-47,2
48,4-49,2
50,3-51,1
52,3-53,1
54,3-55,1
56,3-57,1
58,2-59,0
60,0-61,0
62,2-63,0
J
35,4-36,2
37,4-38,1
39,3-40,1
41,3-42,1
43,3-44,0
45,2-46,0
47,2-48,0
49,2-50,0
51,1-51,9
53,1-53,9
55,1-55,9
57,1-57,9
59,0-59,8
61,0-61,8
63,0-63,8
Swimwear
Clothing size
36
38
40
42
44
46
48
50
52
54
56
58
60
Bra Size
70
75
80
85
90
95
100
105
110
115
120
125
130
Briefs
Dress size GB
26
28
30
32
34
36
38
40
42
44
46
48
50
52
54
Dress size US
2
4
6
8
10
12
14
16
18
20
22
24
26
28
30
Dress size int.
XS
XS
S
S
M
M
L
L
XL
XL
XXL
XXL
XXXL
XXXL
XXXXL
Panty girdle size
26
28
30
32
34
36
38
40
42
44
46
48
50
52
54
Waist measurement inch (3)
20,4-22,4
22,4-24,4
24,4-26,4
26,4-28,3
28,3-30,3
30,3-32,3
32,3-34,3
34,3-36,2
36,2-38,2
38,2-40,2
40,2-42,1
42,1-44,1
44,1-46,1
46,1-48.0
48,0-50,0
Hip measurement inch (4)
31,8-33,4
33,4-35,0
35,0-36,6
36,6-38,2
38,2-39,8
39,8-41,3
41,3-42,9
42,9-44,5
44,5-46,1
46,1-47,6
47,6-49,2
49,2-50,8
50,8-52,4
52,4-53,9
53,9-55,5
Bras
Underbust measurement inch (1)
22,6-24,6
24,6-26,6
26,6-28,5
28,5-30,5
30,5-32,5
32,5-34,4
34,4-36,4
36,4-38,4
38,4-40,4
40,4-42,3
42,3-44,3
44,3-46,3
46,3-48,2
48,2-50,2
50,2-52,2
Underbust size
28
30
32
34
36
38
40
42
44
46
48
50
52
54
56
Bust measurement inch (2)
AA
27,5-28,3
29,5-30,3
31,5-32,2
33,4-34,2
35,4-36,2
37,4-38,1
39,3-40,1
41,3-42,1
43,3-44,0
45,2-46,0
47,2-48,0
49,2-50,0
51,2-51,9
53,1-53,9
55,1-55,9
A
28,3-29,1
30,3-31,0
32,2-33,0
34,2-35,0
36,2-37,0
38,1-38,9
40,1-40,9
42,1-42,9
44,0-44,8
46,0-46,8
48,0-48,8
50,0-50,8
51,9-52,7
53,9-54,7
55,9-56,7
B
29,1-29,9
31,1-31,8
33,0-33,8
35,0-35,8
37,0-37,8
38,9-39,7
40,9-41,7
42,9-43,7
44,8-45,6
46,8-47,6
48,8-49,6
50,8-51,6
52,7-53,5
54,7-55,5
56,7-57,5
C
29,9-30,7
31,8-32,6
33,8-34,6
35,8-36,6
37,8-38,5
39,7-40,5
41,7-42,5
43,7-44,4
45,6-46,4
47,6-48,4
49,6-50,4
51,6-52,3
53,5-54,3
55,5-56,3
57,5-58,2
D
30,7-31,5
32,6-33,4
34,6-35,4
36,6-37,4
38,5-39,3
40,5-41,3
42,5-43,3
44,4-45,2
46,4-47,2
48,4-49,2
50,4-51,2
52,3-53,1
54,3-55,1
56,3-57,1
58,2-59,0
E
31,5-32,2
33,4-34,2
35,4-36,2
37,4-38,1
39,3-40,1
41,3-42,1
43,3-44,0
45,2-46,0
47,2-48,0
49,2-50,0
51,2-51,9
53,1-53,9
55,1-55,9
57.1-57,9
59,0-59,8
F
32,2-33,0
34,2-35,0
36,2-37,0
38,1-38,9
40,1-40,9
42,1-42,9
44,0-44,8
46,0-46,8
48,0-48,8
50,0-50,7
51,9-52,7
53,9-54,7
55,9-56,7
57,9-58,6
59,8-60,6
G
33,0-33,8
35,0-35,8
37,0-37,8
38,9-39,7
40,9-41,7
42,9-43,7
44,8-45,6
46,8-47,6
48,8-49,6
50,7-51,5
52,7-53,5
54,7-55,5
56,7-57,5
58,6-59,4
60,6-61,4
H
33,8-34,6
35,8-36,6
37,8-38,5
39,7-40,5
41,7-42,5
43,7-44,4
45,6-46,4
47,6-48,4
49,6-50,3
51,5-52,3
53,5-54,3
55,5-56,3
57,5-58,2
59,4-60,2
61,4-62,2
I
34,6-35,4
36,6-37,4
38,5-39,3
40,5-41,3
42,5-43,3
44,4-45,2
46,4-47,2
48,4-49,2
50,3-51,1
52,3-53,1
54,3-55,1
56,3-57,1
58,2-59,0
60,0-61,0
62,2-63,0
J
35,4-36,2
37,4-38,1
39,3-40,1
41,3-42,1
43,3-44,0
45,2-46,0
47,2-48,0
49,2-50,0
51,1-51,9
53,1-53,9
55,1-55,9
57,1-57,9
59,0-59,8
61,0-61,8
63,0-63,8
Swimwear
Clothing size
36
38
40
42
44
46
48
50
52
54
56
58
60
Bra Size
70
75
80
85
90
95
100
105
110
115
120
125
130